Bushi Matusmura (179--1890, exact date not clear) was an Okinawan. Somewhat early in his life his training started at the school of Sakugawa. Matusmura had a few teachers which included: Kushanku, Iwah
(a Chinese master), and Yashuhiro Ijuin. He was known to be living in China around the 1830's, and upon returning to Okinawa he began instruction in a modified Chinese form he renamed Passai. Matsumura was the direct Instructior of Both Yasutsune Itosu and Yasutsune Azato. Occasionally he would give instruction to Gichin Funakoshi.
YASUTSUNE (ANKOH) AZATO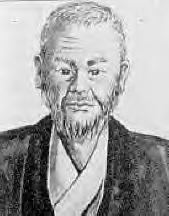 Among his talents were the skills of Kendo, Horseback riding, and Archery all alongside Karate-do. Born the son of a tonichi, One of the highest classes of Okinawan Society. A very strict instructor in his methods, he would often have Funakoshi (Gichin) repeat over and over again, the very same kata until all aspects were correct.
YASUTSUNE ITOSU
(1830 - 1915)
Born in the city of Shuri, Okinawa. At the age of 16 he started to train Karate with Master Sokon "Bushi" Matsumura. He was a very close friend of Matsumuras uchi deshi, Yasutsune (Ankoh) Azato and was furthermore a student of Shimpan Gusukuma and Yasuri, Iwah's uchi deshi.
Master Itosu was a Shurite Instructor. He created and instituted the Pinan (Heian) kata (1904) and later revised them for introduction into the into the Okinawan school system many years prior to Funakoshi's introduction of kata into the Japanese school system. It can well be said that Funakoshi utilized his mentors template.
His attainments are very often told to emphasize the high technical level he attained. Gichin Funakoshi refers to his physical strength, his incredible ability to withsand blows and his incredible grip.
GICHIN 'SHOTO' FUNAKOSHI
Here truely begins the beginning of
"Japanese Shotokan Karate-do"
SHOTOKAN Pine Wave House is composed of the Kanji for the founders pen-name, (used to insigniate his poetry) and the Kanji for hall (or house).
Taken from the back cover of Karate-Do Kyohan
The master text
World famous as one of karate's great masters.
Born in Shuri, Okinawa prefecture, in 1868 he studied karate-do from childhood and organized the first public demonstrations.
As President of the Okinawan Association for the spirit of martial arts, he was chosen to demonstrate karate at the First National Exhibition in Tokyo in 1922. This led to the introduction of ancient martial art to the rest of the world.
At the urging of friends and officials, he remained in
Tokyo
. The development of the way of karate-do owes much to his teachings, writings and introduction of new forms. In later years, he was President of the Shotokai, of which he was a founder. He emphasized always the spiritual aspects of karate-do, and it is significant that through his influence the Chinese characters for karate were changed from "Chinese" hand to "Empty" hand.
------------------------
"KENKOJUKU"
"Okano Sensei Ni Rei"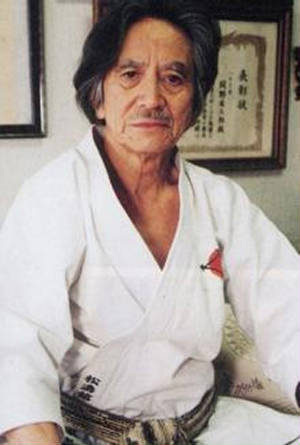 1922 - 2003
Master Okano founded KENKOJUKU in the year of 1941 in Japan with the blessings of both Gichin Funakoshi and Yoshitaka Funakoshi.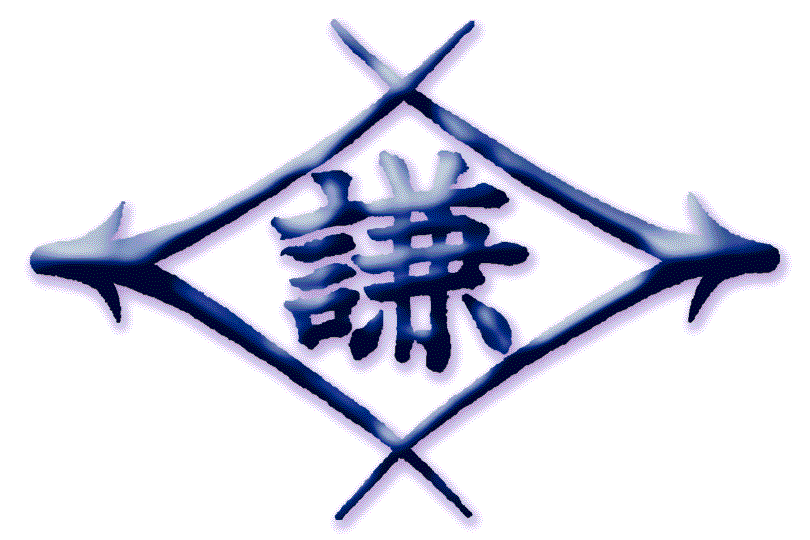 --------------------------
War God-defender of the people
Fred (Olu Balogun) Hamilton
1925-1986
Traditional Japanese Shotokan Karate-Jitsu Practioner/Instructor/Promoter
Traditional Japanese Shotokan Karate-do Practioner/Instructor/Promoter
Kodokan Judo Practioner/Instructor
African Martial Arts Master Practioner/Instructor/Promoter
Afro-Centric American Traditional Martial Arts Master Instructor/Promoter
Martial Arts Promoter
The Master began his Karate-do training in Japan in the 1940's.
From 1968-1973 Master Hamilton used karate in conjunction with Operation Helping Hand, a program for inner city youth which produced major results, keeping thousands of kids (and adults) off the crime riddled streets of Harlem. He extended his efforts by lending his hand in many prison and college and University programs providing extensive information, knowledge and demosnstrations.
In the year of 1975 Master hosted the first bare-knuckle full-contact professional karate tournament in the country.
In 1975 the Master hosted the first BARE-KNUCKLE full-contact professional karate tournament in the country. Along with this, he was also the first promoter to allow women to fully participate in all categories of martial arts competition
It is a wonderful thing to "know" who your instructor was. Growing up in Harlem (New York) was a task/survival in the 60's, in those times training was raw, oftentimes bordering on brutality. Sparring was a thing (like everything in our dojo) that was taken and given seriously. Periodically you would dish-out a whippin and sometimes you would take a whippin but we all went home as friends and family.
I am truely honored and grateful to have been graced with his martial as well as everyday life teachings and nurturings.
What I have however, is very very, very first hand memories of Grandmaster.
Raymond McRinna "Shihan"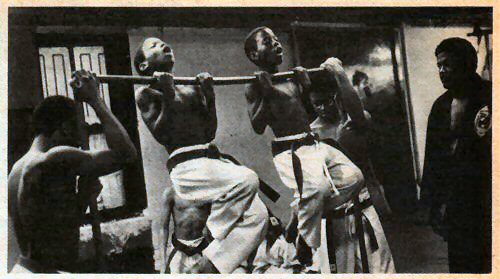 Twin warriors Kevin and Curry Garris strengthening themselves under the watchful eyes of
Master Hamilton.